Truth About Closed Account Complaints at Spin Palace Casino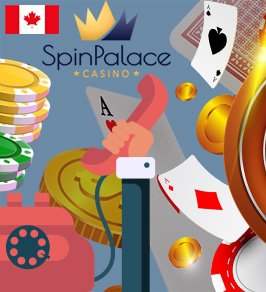 One issue that many players seem to be experiencing with Spin Palace Casino is complaints about their closed accounts. Many players have attempted to log on to their account only to be met with a denial of service. Most of the complaints about Spin Palace Casino seem to be about this issue and very few resolutions have been offered. Because of the percentage of complaints about Spin Palace Casino being about closed accounts, we felt it would be beneficial to take a look into the problem to see where the issue lies.
We took a look at the issue of closed accounts among other complaints about Spin Palace Casino that players have lodged. Our goal was to see whether the casino was to blame or if there was another issue at play - something like extreme wagering requirements or unreachable playthroughs. When playing with an online casino, it's important to know for sure if their services are fair and their terms agreeable. You're wagering your own money so you don't want to lose it on unfair odds.
It's unfortunate, but closed accounts do happen and are common in the online casino world. More often than not when this happens, the casino will respond and you'll be notified your account was in violation of a rule you may not have been aware of. The real complaints about Spin Palace Casino is their lack of answers to their customer's many questions. Closed accounts are often met with no response by the casino itself.
Closed Accounts and No Response
We struggled to find a single response from the casino regarding closed accounts. In fact, most of the issues listed on casino complaint websites have been left unresolved and even unaddressed. Some users have stated that when their account was closed, the support staff simply told them they could not reveal why and closed the chat. If complaints about Spin Palace Casino closing accounts wasn't a red flag, their lack of response to any online issues should be.
Any casino that refuses to respond to clients or address concerns is not a casino you want to be with. Regardless of whether or not Spin Palace is truly closing players' accounts for no reason, if the casino doesn't address issues within the community, they simply do not care about their players. As long as players keep playing, Spin Palace is content. The vast number of complaints about Spin Palace Casino closed accounts is another problem that should ward you away from this site.
When looking specifically at complaints about closed accounts, we found that most of them held the same narrative which shows that this is a common issue among the community. Typically, it starts with the user attempting to login, not being able to, and requesting their information to be sent to the associated email. When that email never arrives, they turn to the casino chat which proves to be useless as well, leaving them in the dark. Complaints about Spin Palace Casino seem to be valid and many users are experiencing closed accounts with no response as to why.
Lowest User Ratings We've Seen
Another concerning issue that users should be aware of is the casino ratings. When researching the issue of closed accounts and complaints about Spin Palace Casino, the first thing we became aware of was the drastic outpouring of negative reviews. Casinos aren't always popular with their clients and many receive negative reviews from unhappy users who may have lost their wages on a game. However, when over 70% of your reviews are giving you a 2-star maximum, there's something that needs to be addressed.
On top of complaints about Spin Palace Casino either not paying out or random encounters of closed accounts, many reviews are about how the casino refuses to respond. Most of the cases are left unaddressed with only a select few having any resolution whatsoever. When looking through these negative reviews, it's common to find many addressing their extreme terms and conditions that make it unfair for the players. That was not the case with Spin Palace.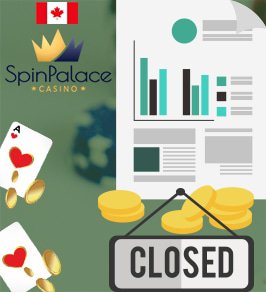 The fact that there are few complaints addressing unfair terms and conditions - which is typically a signal that the casino isn't scamming players, it simply has a high wagering requirement - shows that any negative reviews about closed accounts or the casino not paying out are valid. New players should seriously consider these negative reviews before signing up for their service. Some users have lost hundreds when their account was closed for no reason.
Other Issues Unaddressed
The second most common complaint about the casino is their tendency to not pay players despite them meeting the minimum requirements stated in the terms and conditions. Many players have addressed concerns that the casino is designing their bonuses so that no one has the opportunity to withdraw their funds. Even if you meet the requirements, the casino still refuses to pay out and will not address the issue.
We will say that the casino is more likely to address and resolve this complaint than they are with the closing of accounts. That being said, there still are many unresolved cases open against the casino that simply haven't been responded to. When it comes to customer service and online activity, this is one of the worst casinos we've seen. They rarely address any concerns from players and most of the complaints against them go untouched.
The complaints lodged against Spin Palace Casino have gotten to be so much that many review websites are listing official warnings on every page that mentions their names. They do not respond to any players, and they are more than happy to stall your money long enough that you give in and simply use it to keep playing. Their goal is not to give out money to players or establish a lasting community, but rather utilize their players for personal financial gain.
Final Verdict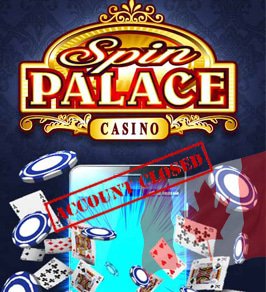 When it comes to closed accounts, we have no answers. This is not due to us not understanding the problem, but rather because the casino refuses to respond to or address any complaints about the issue. Until the casino offers reasons as to why players are losing their accounts and not receiving answers, we believe them to be guilty of fraudulent account closing. Once a player has deposited enough money, rather than deal with giving them their winnings, Spin Palace simply closes their account.
Their biggest crime seems to be their lack of response to any complaints. Many users have lodged valid complaints and issues about the company, but fewer than 10% are even looked at, let alone responded to. This casino will close your account and then refuse to address any quarries as to why. If you earn any winnings, receiving them will be difficult as they tend to stall paying out as long as possible.
If you're looking for a new online casino to call home, we recommend staying away from Spin Palace Casino. There are plenty of casinos out there that have better services, better games, and will respond to any issues addressed.