Casino Banking Methods Available in Canada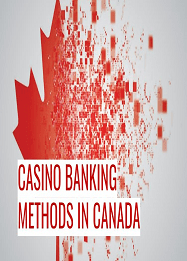 There's a wide variety of casino banking methods available for gamblers to pay money in and withdraw their winnings (or cut their losses). Obviously, not every casino will have every option, and each gambler will have their own preferred method. Here at onlinecasinocanadian.com we've put together a handy guide outlining some of the most popular methods and their pros and cons.
Debit/credit card banking
When it comes to convenience, debit and credit cards are hard to beat. Payment is pretty much instantaneous and just about everywhere accepts them. Not all cards are created equal, however. Typically, Visa will allow for payment and probably withdrawal too (but be sure to check beforehand if you're intending to both pay and withdraw using the same card). Depositing with Mastercard shouldn't be a problem but withdrawing might be. Another negative is that some people feel anxious about entering their card info, although casinos do tend to have a very good level of security.
InstaDebit
InstaDebit is an e-wallet system and popular banking method that means you don't have to share financial information (card numbers etc) with the casino directly. Instead, InstaDebit operates as an intermediary between your bank, which you'll have to register, and the casino. So if you're a bit nervous about sharing financial information with a casino, this can be a good alternative. In addition, InstaDebit is available as a payment and withdrawal method at the vast majority of Canadian casinos.
PayPal
Similar to InstaDebit, PayPal is one of the world's best known casino banking methods (e-wallets), and enables you to both receive and send money from a wide range of sources. Some people are wary of sharing financial information with casinos, and if you're one of them this is a great way to pay and withdraw money without worry. The only real downside is that coverage is perhaps a bit less than it is for InstaDebit.
UseMyFunds
UseMyFunds (part of UseMyServices) offers most of the advantages of an e-wallet, without actually being an e-wallet. It enables you to use your bank to pay cash to a casino, without providing financial details to the casino. This means the payment goes straight from the bank account. Withdrawals are possible (for Canadians) but does require registering a Buyers account first.
eCheck banking
An Electronic Check (eCheck) is simply the modern version of the old-fashioned paper check and can be used to deposit or withdraw cash. The money is taken from your bank account, but because you're not using a card you don't need to input those details. Not only that, the transfer can happen instantly (depending on the casino). However, there are some downsides, not least that your bank may or may not offer the service, a casino might accept it or not (and some may be slow), and you will still have to enter some financial information.
These are just some of the many casino banking method options available, each with their own advantages and disadvantages. Bear in mind the cons as well as the pros when selecting your own method of deposit/withdrawal.